How did THAT happen?
December 4, 2008
I thought I saw some colour,
In this sea thats all the same.
I thought I no longer had to
Play someone elses game.
I found these special people,
They made me fly just like a bird,
They told me I'd never have to change.
But you went back on your word.
So off and away we were flying,
Happy as can be,
When I thought i saw a flash of red,
In this always blue sea.
"You're just like me!"
I told you.
But you did not agree.
Said I was blue, just like the ocean!
Blue just like the sea.
I looked down in shock
And I saw that it was true.
My colour had changed
From the brightest red to blue!
I bit my lip and looked back
I loved my blue friends so,
But I guess if I wanna be who I am,
Then they will have to go.
So then I met a flash of pink,
Another flash of white.
A flash of orange,
A flash of green,
A flash as black as night.
They all greeted me in,
Although I looked
A little different then them.
Opened up,
Excpeted me in,
And these were my new friends.
On the road I found myself
Missing the ones that were blue.
But soon I was being grabbed,
And torn like paper, into two.
I wanted to yell for you to stop
But my voice could not be found.
I was torn in threes in fours in fives,
And lay in shreds on the ground.
This didn't matter to any of you
You shrugged it off anyway.
You picked your peice,
Put it in your pocket,
And then you walked away.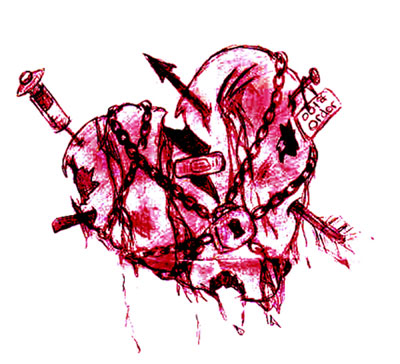 © Asia B., Hudson, MA