When The Stars Go Blue
November 29, 2008
A pitch black backdrop, peaceful, surreal scenery,
the perfect home of a living rock.
Yellow pebbles floating aimlessly
in a fine frenzy.

Speaking through hums and whistles,
grazing the cosmos as synchronized dancers
in chaotic, harmonious, movements.

Individual, yet all the same, their differences
unifying them as one.
Constantly changing amongst themselves.
Circled together, arm in arm with a common instinct.

Sprinting through universes, searching continuously.
Movement in sync with the heartbeat,
cold air treading through empty veins.

Always looking, in search of themselves.
Some aiding the voyage,
others pointing the other direction, enviously and angrily.

As the journey reached its end and the goal was
reached with groping fingertips.
A shocking color appeared,
drowning the displeased red and yellow.

Enveloped by blue and content with their position,
someone flips the lightswitch,
and we begin again.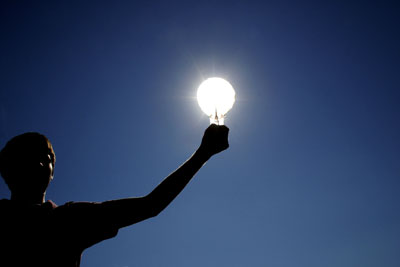 © Ty B., Oak Bluffs, MA