On The Stoop
November 29, 2008
I sit with him on the stoop of the drug store.
He tells me, "I don't go to school no more.

I mean, I never dropped out. I just don't go.

When I was in those walls, I felt— alone.

Now he smokes two packs a day.

Drops acid,

by the bridge. He waits.


Washes down ecstasy with bottles of Jim Bean.



smoking spliffs on the corner of the street.

He's rolling Top, and he says, Why do you worry?

Why do you care, you're living in a hurry.
Chill out, man. He flicks his cigarette.

I laugh out loud, I say,
I'll try to forget.

But he and I,

we both know I'm not like him.
I'll never quit school, stay home, take Ritalin
He roams town all day, and stays with his mom.

Doesn't he want to leave?

Doesn't he want to…



move on?

I wonder where he'll be in thirty years…
Still on the stoop, cradling a beer?
Still dropping shrooms, dealing coke, getting blazed?
Will he still laugh out loud, a smile on his face?
I wonder.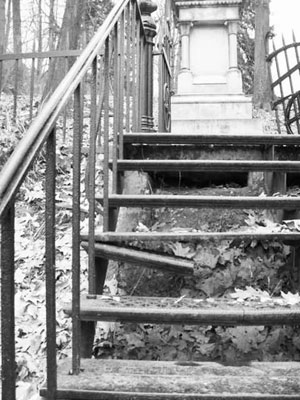 © Ginamarie D., Rochester, NY