The Mountain
November 24, 2008
The sky is pink, purple, orange and red,
It's beautiful,
I can see for miles and miles,
It's beautiful.

I don't want to go home,
Back to the cottage of liquor,
Back to the house of noise,
I want to stay here where…
It's beautiful.

I feel like I'm on top of the world,
Nothing can stop me,
Not even them,
But I must come down, I must go back,
Back to the ugliness,
Back to reality,
Back to my life,

God how I wish it was beautiful,
But its not,
It's my life cover in darkness and despair.

One day I will escape,
And it will be beautiful.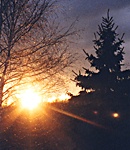 © Christy S., Germantown, NY