imaginary friends never last
November 18, 2008
my mother used to lock herself in the closet
because she didn't want my brothers and i to hear her
screaming.

each time this happened i'd dial your number
and in little gasps i'd whisper into the
recieving end of the telephone

"there's a hurricane in my living room.
pick me up and get me out of here?"

together we'd ride our bicycles into the cemetary
because we liked the feeling of being the only ones alive
when otherwise our scars and bruises
made us more dead than the other kids.

on the dead graveyard grass
i made you promise to take me to a milkyway
before the sun went down.

when you said

"i promise"

i knew that you weren't real.

the pain i felt in admitting that my therapist was right
was emotional not physical which could mean that
i didn't exist either.

and even though i don't believe in imaginary friends anymore
i am really starting to miss having someone to watch the sunset
burst open with.

it has been seven years,
and now i need you more than ever.

there's a hurricane in my head.

pick me up and get me out of here?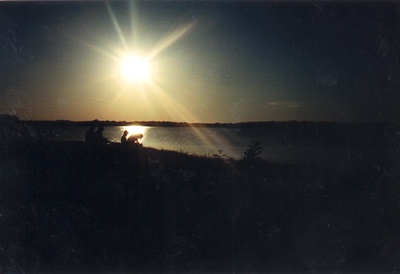 © Angela F., Bonham, TX