They and Us
November 16, 2008
Adolescence
If there was such a thing as an accurate dictionary
One specific enough not to define gravity as a pull towards the center of our world
One that defines "secondary school" as "Hell on Earth"
Then this dictionary would define "adolescence" as "confusion"

Adolescent
Synonyms:
Teenager
Young adult
Confused

We still don't know how our world works
We still don't know what we want
And we sure as hell don't know how to get it
Yet somehow,
Someway,
Some of us
Do

Clique
Synonyms:
Social circle
Friends
Defense mechanism

We need
We must have allies
People just as confused as we are
Adolescents with the same problems we have
And the same mentality-
The necessary mentality-
The only mentality-
The group mentality

Group mentality
Synonyms:
They and Us
Shared enemies
Shared loves
All so fake
But yet so necessary





The adolescent divides people into two types
They
And us
We
And them
The adolescent loves their "us"
It is all they can do
We are afraid to do otherwise
The adolescent hates the They
They embody whatever we are not
What we're so sure that we don't want to be
Our biggest fear
Our biggest abhorrence
Is someone else
Someone unlike us
Someone different

Hate
Synonyms:
Intense dislike
Loathing
Necessity

We cannot function without that powerful variable
Hate is the potent adhesive that holds a clique together
Artificial love
Obligatory hate
And a form of natural brainwashing

The adolescent must convince themselves that they feel love
They must convince themselves that they truly hate
They try to convince themselves that this is how it must be
How it should be
But they cannot

They and Us
Is of no help
When we finally see
How fake our friendships our
How needy we became
Once we turned thirteen
And how much easier it was
To just remain confused

Why don't you put that in the dictionary, Webster's?
Why don't you let the world know the truth?
Why does the world leave us to realize what we've done to save ourselves
From rejection…
From seclusion…
From reality?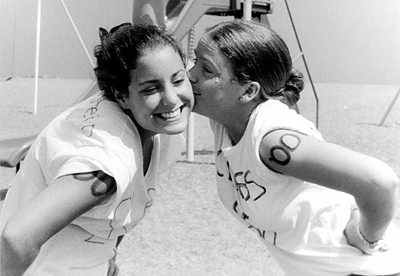 © Jessica M., Marblehead, MA