One and Only
November 13, 2008
Five o'clock in the late afternoon-

She must go out to stock tomorrow's breakfast nook.

It's off to the store, humming a soft tune.

"The town's bully will hurt you, girl, if at him you look.

Don't talk to boys you don't know."

Her list is oh so long: just some milk, eggs, and bread.

"Be back by seven, so off you go!

Or else the younger siblings won't be in bed."


Down aisle one, up aisle thirteen.

Bully's in the Almond Aisle awaiting her arrival

His eyes shine like the movie screen;

They allow her no worries about her survival.

He says "Hi there. My name is Charlie.

I've liked you since the moment I first had a glance.

I think you and I should have a parley

And you can give my love its due fair chance."

"I'll take you up on your proposition-

My life as of lately has been sort of lonely-

But I'll only do so on this one condition:

We'll have to be each other's one and only."


He listened to her just so lovely reply.

Charlie said he'd walk all the way to the moon,

To prove it was only her side he'd stand by.

She believed him, didn't see he was just a silly buffoon.

They started in May, they ended in August.

To college, off she went, bound to find her true other.

It took her awhile to show men some trust.
The man to whom she's now married is Charlie's twin brother.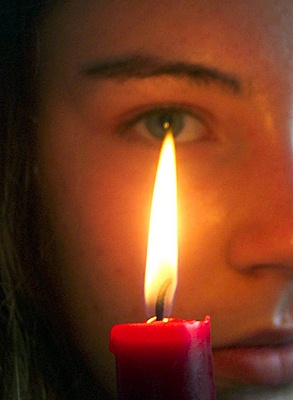 © Elise S., Clarksville, MD