The Ocean's Victims
March 17, 2014
The warm, sweet summer air fills the delicate balloons that are my lungs.
Clear as glass, the sea dips down to the horizon; it is boundless, vast.
And the ocean is still; a thick blanket of blue, engulfing the Earth.
The Sun, a ballerina, dances effortlessly across water.
I tiptoe through golden sand; my first encounter with the salty sea.
The waves break at the reef, as though bowing for their queen as I approach.
Waving hello to me, like we're old friends, reunited once again.
Shreds of seaweed bob up and down, catching as I wade through the water.
I dive in, bubbles of air, helium balloons, begin to surface.
I am one with the fish. In this moment, we are coequals; the same.
The reef is like a colored quilt plastered against the bland jagged rock.
My body feels weightless, like the laws of gravity do not apply.
I thought I was a mermaid, for I had no fear at all of the depth.
The sea was incredible, calm, warm, yet also wicked, merciless.
The sea is unsparing. This is now but a memory that I have.
A paradise; the ocean was a beautiful final remembrance.
A heaven that takes the lives of few, who are just as lucky as me.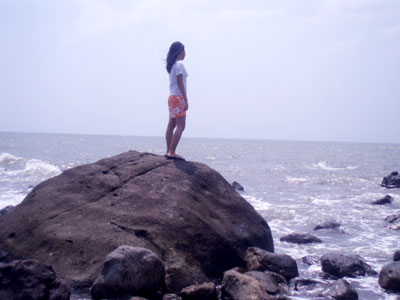 © Grace L., Bacolod City, Philippines