The Bully
November 9, 2008
His stomach hanging over his pants caused fear,
Little children scattered, their eyes filled with dew,
When he walked through the halls, the bully
Who kicked the teachers in the shins and slammed lockers,
As the people who crossed his path apologized... "Will,
I'm sorry Will." to his frightening figure.

No one, not even student councilors, could figure
Out what was wrong with the bully, what he feared
Would be revealed to them against his will,
So he stomped along his way, and everyone knew what to do,
To run away, hide their faces, close their lockers,
And go home, because they did not want to be bothered by a bully,

Who is fat and vicious, like an angry bull. Lee,
A younger boy, hated the bully with all his heart, for one time he ate all of his figs, "Your
Food is gross!", he was told, as the bully spit it right into Lee's locker.
From that point on, Lee knew he couldn't let his fear
Stop him from doing what he wanted to do,
So he decided to fight the bully, and though it took much will

Power, Lee knew he had to confront Will.
After school one day, the halls had cleared quickly, but the bully
Was used to this. Then Lee appeared, and for a moment he thought his time was due,
But suddenly he saw a glimpse of fear in the eyes of the dark figure,
"No," he thought to himself, "That can't be fear
I see, from the boy who once stuffed me violently into my own locker."

Then Will no longer looked scared, he came up to Lee and aggressively pushed him into the lockers,
And thinking the "fight" was quickly won, he turned away, but then heard a voice say, "Will,
I am ready to fight, are you?". There was no fear
In the small, skinny boy's tone, and the bully
Realized this for the first time; It was a situation he couldn't figure
Was possible, for he had no idea what to do.

Without warning, Will was on the floor, his eyed filled with dew,
He tears poured so fast, the hall could have flooded, the lockers
Too. This made Lee want to cry, "Go figure,"
He thought, "He's miserable." He approached the crying Will,
"What's wrong?", he asked to the not so scary bully.
A moment later, Will stood up, and shyly, with a hint of fear,

Outstretched his right hand. Knowing just what to do, Lee said, "Well, there is a small fee,
Are you aware?" While laughing, he opened his locker, and handed the ex-bully
A fig. "Eat this will you?" He asked, as they laughed, and walked home together, arm in arm.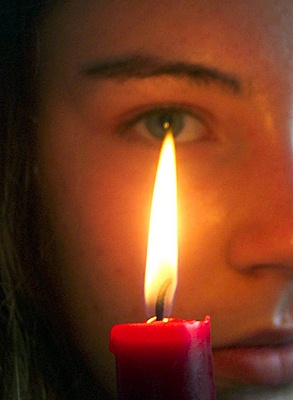 © Elise S., Clarksville, MD