I Am Human
November 5, 2008
I am human.
I live to make mistakes.
I see mistakes but do not correct them.

I feel my book in my hand and know that mistakes have been made in it.
I pray for God to forgive me for my mistakes.

I smell factory smoke and know that mistakes are being made there also.
I live for myself and what I do.

I touch imperfection everyday, but for me, it is a normal routine.
I cry when a mistake results in something very serious.
I move as if I am flawless but I know inside that I am not.

I hear a blemish in the voice of a student walking by.
I laugh at the thought of our world being perfect.
I would die for a chance to be perfect, although it will most likely never happen.

I scream so that my imperfection is heard all around the world.

I reach out to those who are perfect and pull them into our world, the world of flaws and blemishes.

I am human.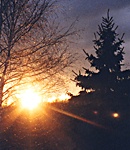 © Christy S., Germantown, NY