Shipwrecked
November 2, 2008
Shipwrecked……….

O' lonesome shipwrecked brother
When thy shimmy eyes, unbolt,
Awaken from the dreams of the fairies;
You find yourself abandoned in an isle;
Inquisitive though, you find no one to query about;
Stranded with splendid growths, rather troops of soldiers,
Is it a cell, with neither friend nor foe?
Having no footsteps either, on the sands,
To guide all through one's lost way
To the greener phase, a familiar surrounding;
O' thy tears, spring all over thy face,
Like the sea-water splashing over naked rocks;
Then came ashore, atypical puffin, jesting with her beaks
O' the limbs, began to grab,
The worn out garment of the shipwrecked, for a reason unknown
Perhaps, it was sympathy, rather unexpected
Encouraging the down-hearted brother, cope up with the situation;
Time flew away, making it feasible to subsist there, for the shipwrecked
Yet his eyes, still waited for someone from the east;
But, not a soul bothered to do what everybody could have done long before
Once, stalking prolifically for an afternoon meal with his bird
His eyes caught the sight of a ship far away from the isle
Inclined, tried his best to draw attention, but in vain,
The puffin soared up high, flew towards the ship, the captain and his crew
Screamed 'help' in a cracking voice, flew slowly, towards the isle
The ship following it, and……………………after several years of terry,
The shipwrecked, achieved his destiny, the captain, ready to depart
But, where's the puffin?
Down laid the bird, on the sands, the sailor singing-
"O' my spectacular life-giving reason
I bid you farewell, bid back to me,
In the ocean of evil, how come you sustained?
You're my savior, hats off to you,
Beyond vexation, at the power of your memory
Never forget me, o' dear."
And, with the end of his song, widened her eyes,
To a slumber, rather everlasting;
Even if those years had passed away,
It was always captured in his heart as
A boundless chronicle……………………………..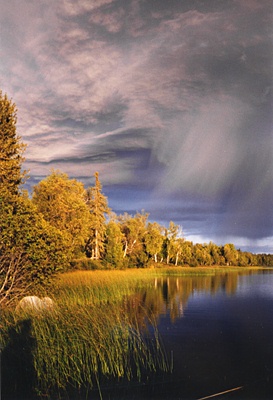 © Dustin B., Nikiski, AK