The Race
October 30, 2008
Ready or not its racing by you,
an engulfing blur,
like a fast car, slicing through
the muggy air of a summer day.
The cars keep coming, surrounding,
you spin, then turn, dizzy.
Stuck in the middle of the street.
The traffic's closing in.
The light turns green,
and the cars speed off.
You latch on to the nearest bumper, like a leech
desperate not to be left behind.
No more starting lines.
The hills get bigger,
the bumps more lurching.
Your arm muscles are
burning, riping, numb.
Scraped up.
Blood pouring out,
making its watercourse down your arms, legs, joints.
You're being eaten away, holding on,
you can't disappear,
to become a part of the road.
The blood caresses you,
stream lining down your body.
It feels good;to relax.
You slip in, then out
and finally let go.
The fall is hard.
You roll there wrapped up in the pain surrounding you,
blinding you, becoming you.
Left behind, on the side of the road,
road kill.
You watch,
the cars speed on.
Then something clicks.
You look around,
the moon stares down at you,
wider
than ever before,
mocking you.
You stand up, and walk a few steps,
reluctant to leave behind your comfortable bed
with your blankets of self-pity
and pillows of doubt.
At first you hitch-hike till you find the nearest town,
where you work.
And then buy a car.
And get back on the road.
Finally driving your own.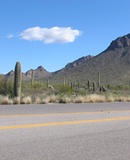 © Aleksandra K., Tucson, AZ