This Road We Travel on.
October 27, 2008
The road we travel on.
It can be bumpy or calm from dusk to dawn.
Sometimes you will reach that fork in the road.
Exspecially when it seems you have a heavy load.
You choose your paths you take.
Sometimes making a mistake.
Every once in a while you think, "oh my god"
Just hang in and dont think fruad.
If you take the muddy ways.
Kick it in gear even if its a hays.
To the best of luck.
Try not to get stuck.
This road we travel on.
Can be hear amd the next day gone.
It may seem rough when times are hard.
But lifes short, so ride it hard.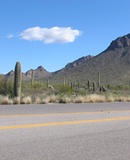 © Aleksandra K., Tucson, AZ