Forgiven
October 21, 2008
hides her bruises
Under sweaters and Jeans
Sunglasses and Scarves
"It's not what it seems"

She avoids going hom
She wanders down the street
No one seems to notice her
Looking down at her feet.

Daddy comes home from work
She holds her breath
As to not be heard
She tries not to think about death

She runs away from home
No matter where she turns
She can't get away
From her bruises and burns

She stares up
At the dark grey sky
She hopes it will rain
So no one will see her cry.

She cries out to God
"Can you hear me?"
She tries so hard
"Can't you see?"

"I'm physically hurt,
I'm falling apart.
Please heal my aching bones
Mend my broken heart."

The clouds part
The sky is set aglow
The rain is gone
Wiping away any sorrow

"Forgive my father,
For what he's done to me.
Help him see you,
Come clean and be free."

She's no longer afraid
God is by her side
He'll stick with her forever
He'll always be her guide.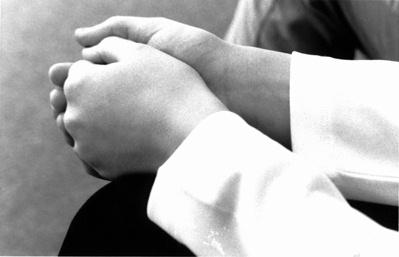 © Sarah G., Greensboro, VT