Counting Sheep
December 8, 2013
Every night, instead of counting sheep,
I imagine your house in my head.
Your black paved driveway
is riddled with splintering cracks that reach for the road.
Shingles are missing from crooked panels
that zig and zag across your roof.
The garden out front is spiked with thistles and weeds,
and carcasses of wilted petunias.
The yellowed panes out front
expose the idle walls of dark rooms inside,
since your pink lace curtains fell from the windows long ago.
Now they lay in a wrinkled heap
next to Cigarette butts that rest in soot and ashes
caking the stiff, carpeted floor.
And there you sit in your old rocking chair,
pipe in mouth,
newspaper in hand,
staring at the mantel above the fireplace,
where my picture should be
but instead dust gathers on the cold empty stone.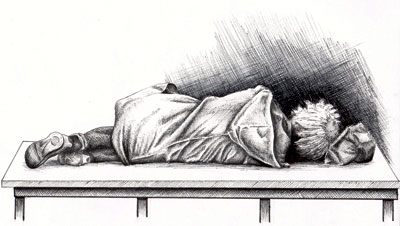 © Devin N., Sherrills Ford, NC