Dying Flying
October 19, 2008
A light in the tunnel
Of darkness and scary
I stand with myself
And my self
And my self.

So I'm not alone
But with my own company
Yet still
I am scared.

I can't find my way out
I turn frantic and worrisome
Like a butterfly
Trapped in a net.

My self and myself
Not alone, but in one
In one
I feel lonely.

Walls of worries
Crumbling, tumbling
Crushing me
Crushing me.

I fall slowly and gracefully
Like a leaf in the autumn
Silent as leopards
Dancing in my own way.

It is not through the light that I find my way out;
It is the path I make myself
For others to follow
In the way of myself and myself.

When I am free of the tunnel,
The hole of hell
I am shy and unfriendly
Scared to get hurt

I am pushed by others,
Others
Others
Back into the tunnel of Dark.

My feelings unstable
I fumble and fall
Into the gaps of my mind
My reasoning.

My feathers letting go,
Floating away.
I can't fly
Gravity pulls me down.

Down.
Down.
Down.
Down.

Until I grow a new set
Of wings that will carry me
Above everything,
Everyone.

There will be a void in the world
Where I once had a place,
A life
Of meaning.

Gone.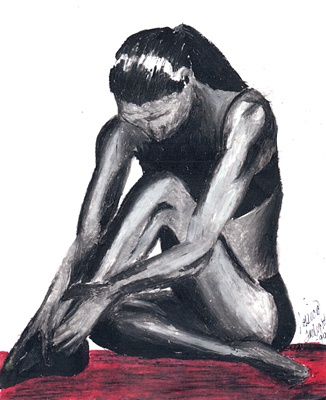 © Jessie Y., Ahwahnee, CA