Friends and Angels
October 9, 2008
Back some time a while ago,
A girl met a boy
But he wasn't much to her.
He looked popular,
She looked average,
She never really thought of him or cared much to ask,
About the feelings inside of him,
She dared not to ask.
But then one day, she was feeling quite down,
A small frown on her face as she walked around town,
She came home that day
And answered a survey,
Writing her thoughts down for the world to read
Not caring if anyone did read them at all,
Just writing to waste time...
Never did she expect to get a reply,
She looked in her inbox and was a little surprised,
There was a message from the boy on whom she never laid her eyes.
She started wondering what it could be,
She looked inside and was a bit amazed,
She was touched to see that after so many years,
Of pain and destruction, a life that felt like a nightmare,
There was one person who actually seemed to care.
She looked up at the skies and thought,
"Could this be really happening?"
And then the two of them started to talk...
Something came to them, form out of the blue,
Something that they never knew they had..
A connection.
A lot more in common than they ever expected,
Something that neither had ever suspected.
They talked a whole nights' worth of time and ended around morning,
Making an agreement that they'd be there for each other with a smile and a helping hand,
Until all of their unpleasantness was over.
The girl looked over at the window, and for once she felt OK.
She felt better than before as on the couch she lay,
waiting for the start of the very next day.
With a real smile on her face that was there to stay.
She knew that she would never forget that day,
When the boy reached out to her,
And helped take away her pain,
She was thankful,
And would never forget,
The boy that she thought
In a manner of speaking...
Could be a guardian angel sent to her from God.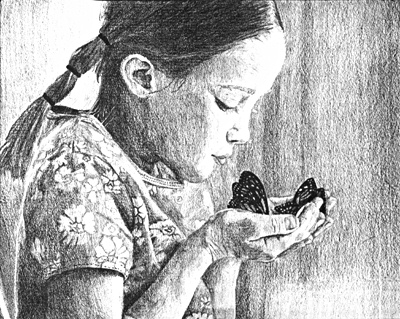 © Alina L., Holland Patent, NY