Mr. Grump
October 7, 2008
Old man Grump sat in a sophisticated vintage room./
Something so clean that he thought it had no need for a broom./
He looked on one side and there stood a great glossy shocase;/
the tophies and awards inside, left awe on his old face./

On his right stood a library that was filled to the shelf./
From Twain to Poe, he had to look he couldn't help himself,/
but what really caught his eye was a glittering black box./
The valuables inside protected with four big locks./

But old man Grump knew where the secret hidden keys were kept,/
under the soft cozy basket of where Gabe the cat slept./
The box, now opened, showed an assortment of jewelry./
He saw rubies, diamonds, gems and said, "What a luxury."/

The old man, slightly deaf, heard a sound coming from the door./
Now he was sure, for there were feet beating on the wood floor./
He quickly locked the black box, and then he put it away./
"Oh, Mr. Grump you shouldn't be out of bed at day."/

"A schizophrenic patient should be getting lots fo rest,"/
said a wise young woman wearing a pricey velvet vest./
It was not an intruder lurking noisily about,/
but the old man's neighbor, Miss Smith, whose face looked odd with doubt./

For this luxury house did not belong to poor old Grump,/
but to the young woman Miss Smith, who was a bit too plump.
"How does he keep on getting back inside," wondered Miss Smith./
"It was almost as if the man had a lock picking kit."/

But that is impossible due to Grump's mental sickness./
However his mind did display a bizzare quickness./
"Come on let us get you home," said Miss Smith quite paranoid./
"No thanks, lassie I'll walk myself home," said Grump quite annoyed./

He scurried out of the room with a wide smile on his face./
He left with such speed it was as if he was in a race./
Old man Grump reached into his pockets which were oddly filled,/
and took out pounds of luscious jewelry, all the while thrilled./

"Works every time, and she hasn't suspected it yet,"/
said a lying old man with a grin on his face. "No sweat."/
For Mr. Grump wasn't a schizophrenic sick old man,/
but a mean swindler who has developed a cunning plan./

*The slash represents the end of the line.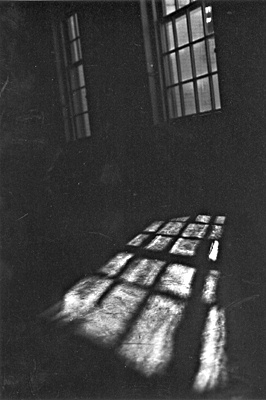 © Mary A., Fullerton, CA