The Secret I Bought
September 16, 2013
This is the secret I bought for us
With the money I earned caring for a dog
I wish I knew a more than I do now.
I traded the peaceful sleep of deceased rulers
And their gargantuan pets to pay off the rent of
Living on the road for some five odd minutes to
Find this secret.

I found this secret not knowing what it was,
Just taking in the blurred lights plastered
on the cover and the quote that accompanied them.
Just a few words pulled from the blanks in time space
And given a new place to call home.

On my way back home, I found this secret
Under the clear-cut coating that protected
The first unwritten sentence that was hidden inside.
Inside this secret, there are ancient hieroglyphs and
Magical runes meant to turn the mundane to mythic
In an attempt to oppose the silence that must be kept.

After all, it's called a secret for a reason.

I bought this secret as a means to an end
That is equal parts humble and selfish,
And I'm really not sure which end is which.
This is the granting of a wish wished by thousands
Upon thousands of men before,
It is the bridge that I have built to you with the brother
In a family of twin walkie talkies. Batteries always included.
It is the leaf and ink that I have left unused to
Write this poem.

This is the secret I bought, and I want to share it with you.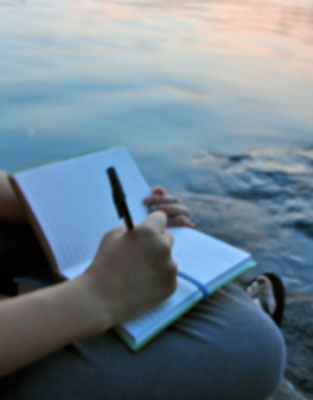 © Grace K., Port Washington, NY