If I Could Walk on Water
October 3, 2008
snow falling
down on the cedars...
the air so frigid and clean.
my hands and toes
begin to numb
almost like sharp ice.
the layer of thick-coated mirror
floats on top of the lake.
the reflection of the person
staring back at me
scares me
reminding me of pure loneliness.
i've never imagined.
my skin so white and pale.
my pupils dilated and
my nose and cheeks rosy red.
my hair feels like
little icicles so fragile to break with one touch.
fog rests on the sky
hiding everything
everything not so clear and
lost for the time.
my eyes fixated
on some strange box
that plays a melody
so familiar to my ears.
i listen
and listen
and listen until
i can't move
an inch of my body
until i can't
discover no words to sound out.
in loss of all my senses.
i watch
my heart
sinking faster
drowning swifter
than my mind
could realize
my own heart
was missing.
gone.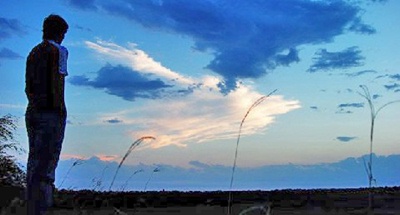 © Stefanie K., Katy, TX