Fallen Caryatid with Urn
October 1, 2008
Cringing away,
From the sunlight,
Holding your passed loved one close,
Are you hollow representation?
Or are you,
Something more.

Iron eyes cast down,
Away from all that pass,
Do you feel them watching,
Or are you truly,
Your surface?

Trapped inside one mask,
Of agony,
Do you huddle there,
Trapped in your emotion,
Or are you,
Just a cast of iron,
Reflecting,
What once was.

As I kneel close,
To meet your gaze,
Do your blank eyes,
Stare back at me,
Or is it simply imaginative folly,
That I think they do?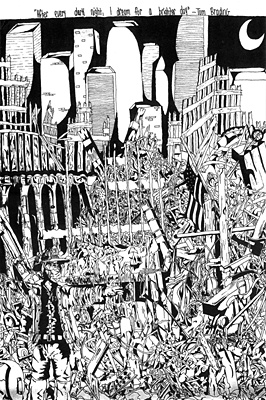 © Tom B., North Vernon, IN