Peace, Love, Our World.
September 30, 2008
What happened to this place where people call home?
When did war become our only option?
Nobody needs, or deserves this.
We need to become our own country again,
We need to figure out our own problems.
We need to become one again.
We don't need war, hate, and weapons.
We only think we need that.
We need, at least, some peace is all.
Peace, love, happiness, less hate, war, and death.
Love and peace between most countries.
Love, happiness, and peace between all the people.
Well, most people that is.
This generation is important to some;
And the only thing to others.
Don't screw it up.
It would literally mean the world to us.
Forever, and ever.
It's our life.
Our world.
So, keep it clean.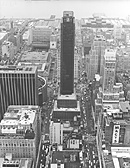 © Palema T., Norwalk, CT