Blocked
September 27, 2008
Would you take it all away
if I wished I didn't know?
Cause I don't.
And I wish you would just tell me
while you look into my eyes,
but you won't.
I notice you seem fickle
and you can't sit still -
or you won't.
So do you stop or do they?
'Cause until you do, the chances
are I don't.
You're not thinking of me
so though I wait for you to call,
still you don't.
I could hop around like you do
but I still recall your kiss,
so I won't.
My desire turns to fury, still
I long to see you and fear
that I won't.
So I'll give you all I can
while I wait for you to love me,
though you don't.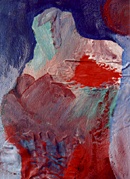 © Chris B.,Phoenix, AZ