Day to day
September 24, 2008
I glance at me wrist after writing so long,
The silver streaks remind me of a song.
One that was written as a sign of love,
But now it's only a sign from above.

A sign that says she was right for me,
But still I didn't act as quickly.
It was an opportunity passed,
But now it's only a thought that will last.

Forever and ever, it won't go so fast.
Forever seems so far away,
But every time that song plays,
The thought of her pops into my head.

For now I'll just lie on my bed,
And listen to the radio.
Hoping that song will start to show,
On every station that I know.

I'll write of her every day,
Until I find a way to say,
That I'll always love her day to day.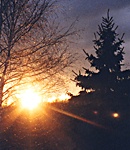 © Christy S., Germantown, NY