Lost
September 22, 2008
The moon hides behind the clouds
The stars refuse to shine
Flowers display their drooping heads
A petal floats to the ground.
Silence.
Silence.
Heat melts into ice
Rays of sun turn to rain
Sorrow turns to joy
But it all remains the same.
Acceptance.
Acceptance.
Everything, everyone
Yearns to be accepted
The curious clouds by the serene sky
The shimmering sun by the mysterious moon.
Deliverance.
Deliverance.
It cries deliver us, rescue us, save us
It's over run, torn, gone
Longing, it turns to flaunting fear
It's only just begun.
Intervene.
Intervene.
Oh heavenly intervention
Please intervene with these poor lost souls
Save them from the world
Save them from the fiery depths of Hell.
Come.
Come.
But it all stays the same
Everyone has already chosen
Chosen to play his deadly game.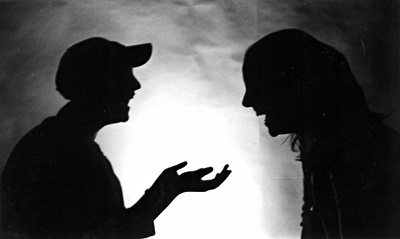 © Jeff A., Marblehead, MA