Pink Flip Flops
September 19, 2008
The ground quavers
Buildings shudder and tremble
Falling to the ground
In clouds of powdery dust
People scream and choke
Clawing their way
Through the blanketing chaos
Little girl with pink flip flops
Sits on the beach
Her feet printing in the sand
Watches as the sea pulls away
Fringes of coral gasp
Fish flop
The girl sees the wall of water
Looming on the horizon
Rushing in
With the spray of dirt-churned foam
A small white boat
Goes crashing in its midst
The girls stands up, runs
Away, away
Towards the city which lies
In lonely ruin
She listens to the shriek
As the wave hits
Uprooting palms
Crashing inland
The girl runs as fast as she can
Her lungs burn
The wave blocks out the sun
Faster, faster
She stumbles, falls
Picks herself up, runs
Then the wave hits.
Too late.
The water foams in
Sweeping the girl off her feet
There's a stony silence
As the city's swallowed
In the deep.
Water retreats.
Pink flip flops.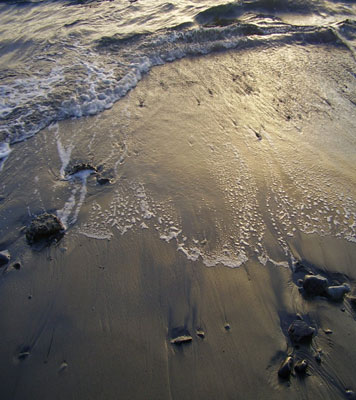 © Tori W., Victoria, BC, Canada