The Circle Nears Completion
September 19, 2008
All around the leaves are centering

Up there. On here.
The grass is exiting

Down there, frost is entering.
A group gives muse-like
Sitting on carved plants.
They hold bent metal.
Notes scurry like ants.
A harsh wind blows fast.
Stealing breath, giving chase
To small, quick children.
Life holding holes carry life-giving liquid.
Matter slows and torpid life drifts.
Slowing, spinning and swirling in a suspending
Substance of strength and silence,
Satirizing the small civilization so sorrowfully standing
Solely on smoke and smells.
Melts flow down dells,
Fleeing cold hells
And icy bells.
A cold vice,
A grip of indifference,
Readies its cruel grip.
Slowly stifling everything.
Lying until the circle closes.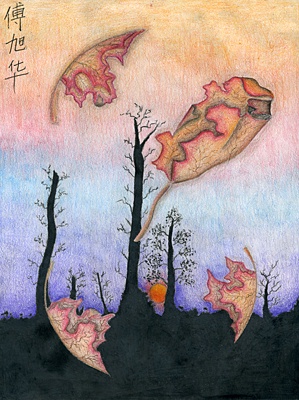 © Becky F., Sacramento, CA