Tsunami
September 10, 2008
Blazing hot sweats rolled down my back
A cloudless sky was at reach from my palm's view
My eyes centered on the sun as it stood above my head
Summer's end sneaked around the corner
But its endless heat
Fooled me to think it would never cease.

Milky sand grains covered my toes
Beach balls rolled back n' forth
Children's castle were made and later destroyed
Clear waters waved in my thoughts
It was suppose to be a beautiful day
And until that moment, indeed it was.

The moment the earth shook
Loud voices suddenly began to rise
And Footsteps tumbled the ground
I looked around
Right, left, up, down
Where had the commotion come from?

The sun blinded me from the truth
When the photons in my eyes reassembled the image
A shock traveled to my heart
Making it pump furiously in my chest.

A dessert ahead of me laid
Content faces had ran from my presence
The air dragged my body forward
The ocean rapidly seemed to disappear
I looked upon the never ending horizon
And its line had ascended greatly.

At that moment
I refused to run like all the others
I refused to avoid its magnificent moves
The winds pushed me backwards with a tremendous force
Sprinkles of icy water splashed against my skin
A great calamity I was bound to face.

Shadows covered the surface of my dread
An enormous wall of wetness surrounded me
And with a blink, I was no longer visible to the eyes of men
Even God could not spot me from the heavens above.

I gasped for air in the salty waters of the ocean
But there was none to be found
And with that last thought in mind
I drowned myself in its eternal beauty.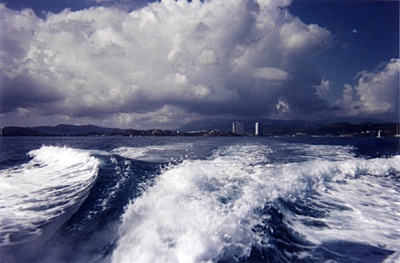 © Jenn T., Dover, NH