Park Bench
September 4, 2008
The leaves are crunching underneath my feet.
I wipe the tears from my eyes and wonder if she if feeling guilty.
She never does...
I can feel Old Man Winters breath on my face as i walk through the lonely park and i zip up my brothers hoodie closer to my face.
It's so warm and familiar.
The sun is almost down and i have no care in the world about a curfew.
I just had to get away from that place.
I pass some old oak trees that are showing the signs of the season.
Nearly bare limbs.
They look so naked in this crowded place.
For some reason i feel so bad for them.
I near a park bench.
It's damp from the melted snow and painted a dark green.
Atleast it's something.
I see another bench, identical to the first.
Except...
Seated on the bench is an old man.
He looks so cheery!
The fact any human being can be so happy in a neihborhood such as this one...at this time of year when dreariness just floats through the air and effects people like a fatal virus.
Spring is the only cure.
It will be a long time till spring.
I pull the bunched up hoodie down over the worn out knees of my jeans as i sit on the bench with my knees to my chest.
I feel warm still.
The old man pays no mind.
He just sits and eats his shiny green apple.
UGH!it reminds me that i rushed out of my house before i had anything to eat.
at that moment...my stomach growls.
It must have been louder than i thought for the old man slowly looked over to me and said,"my wife makes a mean lasagna,ma'am.Would you like to join me for dinner?"
"no,i can't...i'm just out for a short walk and my mother will be lookinnn..."
at that thought i stop.
she won't look for me.
she probably doesn't even realize that i'm gone.
"yes sir i would be happy to join you for dinner."
after a quick exchange of introductions, a plump older woman shuffles toward us from a joggers path.
She looks exhausted.
"i tried to jog the entire thing but..."
the old man stops her and kisses her sweetly on the cheek.
"Hon, is there an extra place at the table for my friend here?"
I quickly smile at her with an akward and shy attitude...as if i were talking to a relative for the first time in my life.
"We sure do!oh...i don't know the last time that i made dinner for anyone but you."
she looks at the older gentleman as if it were the first time she had met him.
That night i found a family.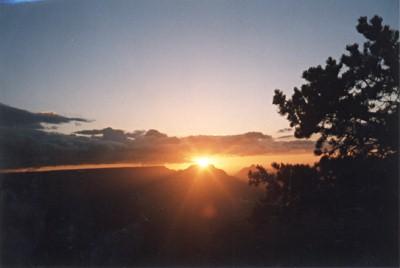 © Amanda T., Scituate, MA