I Am
August 24, 2008
Bone deep, skin deep,
Selfless, selfish,
Heart beating, glass eyes,
Bare truth, twisted lies.

A mirror, two sides,
A coin, heads or tails,
Choose a path,
Life, death, grasp or gasp.

Pain, shame, numb
Shield stripped away
Who are you?
An angel blessed or demon damned.

Wings - free and unbound, or broken,
Quicksand sucking you under,
Fly little one,
Unless you're a pretender, so fake.

Shattered surface, your soul
Screaming truth, a core
A truth you must know,
The sky or the floor.

We don't always like what we see,
But acceptance is the only way,
Maybe there isn't one place,
But a naked truth, beyond a simple face.

Love, hate, live, die,
Let your soul go free,
Chains will only choke you,
Let your heart lead, let your soul be,
Forever truth, to face the mirror and say
With pride, this is who I am- ME.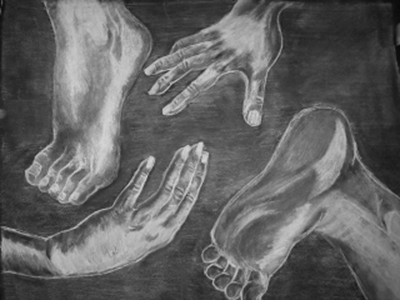 © Rachel U., Danbury, CT