Justifications & Euphamisms
July 18, 2008
we've gone
from n----r to negro to black to African-American
just look at the progress we're making
aren't we better people now?

I ponder this as I racially profile passengers
from my seat
on an airplane
where a stewardess transforms into a flight attendant
right before my eyes
(though I don't see any difference.)

hijacked

our twisted tongues are taking language down with us

but "dying" sounds too harsh
so I'll say it's just "passing away"
and rest easy, comfortable
and free
from thought.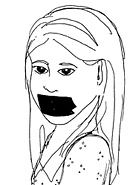 © Liza M., Vineland, NJ