She
August 17, 2008
Her eyes are lightning
Her flaxen curls cradle specks of gold
A half-moon grin predicts kinetic laughter
And this flawless shell is only a projection
Of her inner-perfection
Yet this is a frozen image
Stationery retrospective
Merely a shard of porcelain
From a once filled vessel
And only she knows this is gone
As she gazes at the vignette picture
Oh! How her temple pounds
And screams to dive in
Into the ethereal once upon a time…
The milky splendor of a child's afternoon
That innocent and unscathed mind
Still ignorant of Incubus
Still untouched by those vultures
They will rat her silken hair.
They will scar her dewy skin.
They will peck at her tender heart.
Yet,
She can not trace backwards.
In her ashy eyes remains but one small ember
Of a tundra soul
Flashes of what-ifs
Pangs of contrition
Everything was a shallow attempt
Just an earthly ideology
Just shadows in a cave
She has only reached a pinnacle of falsehood
And now she huddles in tainted existence
With nowhere to be
To achieve those pure dreams
With only a phantom
Of a life that dared to be
That dared to be She.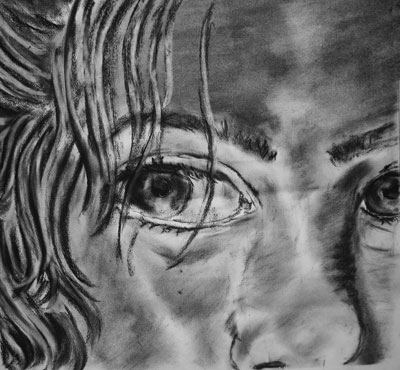 © Brooke W., Weston, MA