He, Him, Me
November 30, 2012
One.
A nervous, sweaty student, eyes half-closed, body melting into the desk. Pupils shifting around the room, feet tapping erratically beneath the desk watching and waiting patiently for the ringing of the bell; muttering to himself, "I totally forgot the test was today..."

Two.
A confident student, eyes glued to the paper, holding his new fountain ink pen in one hand, feet squared perfectly to the corners beneath the desk. Glasses perched upon his nose, his gel-filled hair combed back. He whispers to himself "The answer is definitely John Locke".

Me.
I was both of these. I never kept my rhythm between my studies. Some days I'd be prepared, while others I would be as lost as a blind person in a maze at night. I was both of these. Confident at times, clueless at others, prepared often yet disorganized daily, focused vividly yet distracted constantly. I was and I am both of these.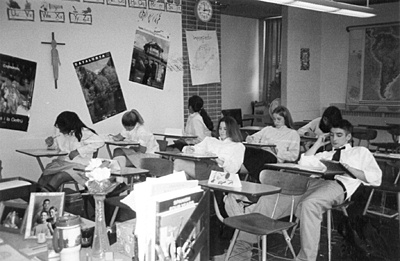 © Fox V., Whitesboro, NY