The Fall
MAG
November 20, 2012
She flew down swiftly as she stroked the sky,
Threw her head back slowly and began to sigh.
Fear rushed through as she began the fall,
Innocent she claimed, yet she believed it all.

Beautiful, golden tears swept down
her cheek,
the fall was hard and long, making
her weak.
She thought about him, and whispered
his name
She felt fear within the fall, yet alive all
the same.

She flipped and fell, seeing the ground in eye,
Laughing at the present free fall, wishing to fly.
But alone she waited, wanting him near,
she couldn't continue on, she felt the
true fear.

He would save her? She felt it in her heart,
But what could she do if he yanked
himself apart?
She couldn't hit the ground, it truly
couldn't come,
Her heart awaited close, beating like a steady drum.

When she gave up hope, and relinquished the air,
She felt the static surge in her cascading hair.
A hand grasped hers, she felt the warmth flow,
She opened her glass eyes, to whom she
did know.

The fall was returned, both flew way up high,
With the strength of each other, they began to fly,
They survived as one, giving what they
did need,
One after another, both a heart taking
the lead.

To fall together is passion, to fall apart
is pain,
Many falls felt by all, both in good and
bad vain.
The golden air smiled, whether it be on
just this one,
The hearts flowed to the top and soared to the sun.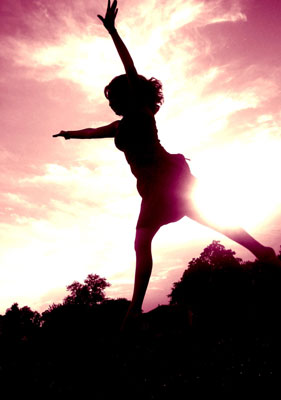 © Martha V., Morton Grove, IL