Frosted
November 11, 2012
*Breathe in, Breath out, Breath in, breath out*
Smell
Every corner and crevice of my nose is filled with the alarming scent of peppermint and warm cocoa.
Listen.
The fire crackles.
*Pop! Pop! Pop!*
The crunch of fresh snow under winter boots.
*crunch*
Touch
The pointy needles of the christmas tree.
Fluffy warm puffy jackets.
Cold snow, cold water.
Taste
Warmth, peppermint and plums.
Gingerbread houses and gingerbread men.
Sweets of all sorts.
Junior mints, candy canes.
Look.
Stocking hung one by one, waiting to be stuffed with joy.
Breath hung in the air like a blanket.
The ground it frosted. Spread with the cold, sweet frosting of winter.
Sweet, cold, sticky frosting.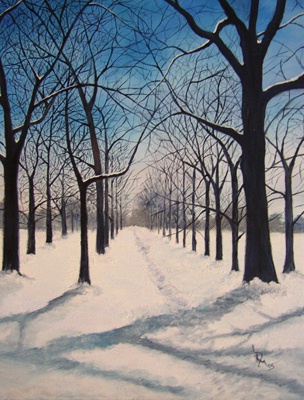 © Lauren M., Scotch Plains, NJ