Ode to Thirteen Years
October 18, 2012
Here's to you, my partner in crime.
Here's to you, my other half.
Attached at the hip,
we are a packaged deal.
Sharing a friendship that is one of-a-kind.
To thirteen years ago
when our friendship began.

Days overflowed with crafts and dress-up.
Creating chalk goo— our expertise.
Covering ourselves from head to toe
in our creation, leaving rings
around the bathtub
for our mothers to deal with.
Ending each fun filled day with:
after while crocodile,
not too soon you big baboon!

To inside jokes and Friday night
mall-wanderings of middle school.
Soccer was our thing.
A pair on the field and off,
we dominated defense,
sandwiching players who dare
enter our domain.

Through the good times and bad,
we learned what true friendship was about
and helped one another figure out
who we wanted to be.

To High School all nighters
and endless Bread Co. pastries.
We lived for walks and deep
conversations on the sewer,
our favorite spot.
Break ups and breakdowns
together through it all,
closer than most
best friends for life.

To you,
my shoulder to cry on.
To you,
my endless supply of support.
To you,
my secret keeper.
You're the best sister
I could ever ask for.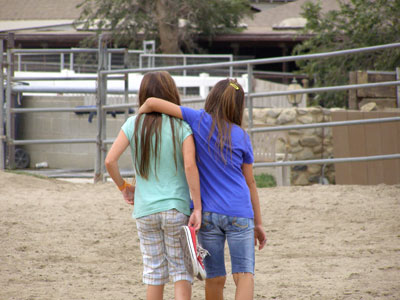 © Austin K., Studio City, CA