Rainbows
October 7, 2012
Drifting through the rainbow fields of beauty.
A rose full of emotion.
The setting sun in far reaches of the sky.
Yellow leaves on a cool fall day.
Grass, never ending on the mountains of Ireland.
A cloudless sky after a horrific thunderstorm.
Fields of lovely lavender filling the clean air.
Happiness and delight flowing in the wind,
making everything they touch into gold.
Light glistening off the non-black everything,
letting us know to not forget.
To forget.
To not forget,
the magnificence of the rainbow.
Endless rays of color clumped in every corner.
In every corner but not,
But on top,
but on the bottom,
but in front and back.
Scribbles, scrabbles, night, day.
A rainbow is a rainbow.
Beauty, happiness, delight, radiance,
drifting through the rainbow fields.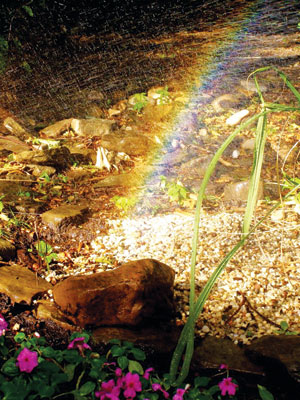 © Kristine B., Setauket, NY