Who's Really Wrong?
September 19, 2012
Everyone judges others, because of their actions;
They don't think about their own wrongs!
The world we live in looks down on gays.
Yes. It's not right, but neither are we.
Hating other is just as bad; Sin is sin.
We judge just because it's not "normal".

Maybe we're the ones who aren't "normal"!
Our atrocious, disgusting, sickening actions
Towards gays are also horrible forms of sin!
We're the ones doing all the wrongs.
You may not see it, even though it's there, we
Are the ones who sin every day, but so are the gays.

Would you rather make peace with an abuser or a gay?
That abuser is the one who blends in and seems normal,
But sin is sin; In God's eyes at least. Somehow We
Just over look all of the abusers horrifying actions.
As long as he puts on a suit on Sunday morning with his wife; He does no wrong.
Hating someone is also a sin.

Being atheist is also an immense sin,
But we don't commit hate crimes against them like we do to the gays.
Not all atheists are horrible, terrible abusers, yet they're still wrong!
Some gays and other sinners go to church and seem "normal",
But we focus only on the harmless "gay" actions.
Do you still want to be a part of the "we"?

We
Sin.
Don't worry about the actions
Of gays,
Or what's normal.
We're also in the wrong!

Who are we to judge what is wrong?
Wrong is what we
are; not normal.
You also Sin.
Don't spend all your time hating gays.
Watch your own actions.

You act so very wrong with your own sins.
All we have to do is show love toward the gays;
And stop thinking about being normal, and focus on acts of kindness.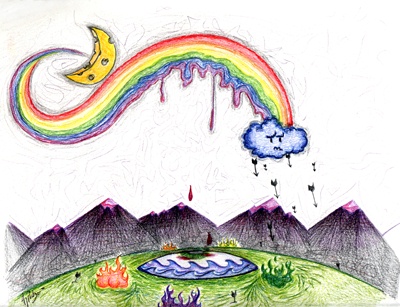 © Alexa P., Ridgeway, PA