The Boy And The Girl In The Room
September 24, 2012
The boy in the back,
All dressed in black.
The girl in the front,
Who'll kick a small bunt.
They sit all alone,
Cause they aren't well known.
The kid in the back,
Never fit in a pack.
All the others would laugh and torture the fool,
All because of his young mother's cruel rules.
But the girl in the front,
Who would never be caught smoking a blunt.
She's so focused on school,
No distractions like boys who act like a tool.
The boy had no friends, no girls..no dates,
It had been this way for years and years, he always knew he'd never be great.
And the girl, she wore long skirts to her knees,
It didn't matter what she wore, she was always the tease.
If they were here with us now,
They'd be able to say ciao.
But they ended their lives,
If only we hid all our knives.
It would have all changed had someone said hi,
Then we would be here, they never deserved to die.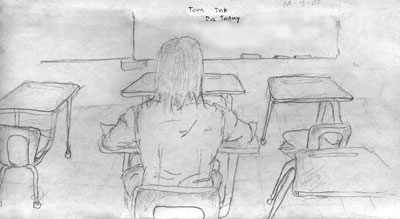 © Christopher M., Dededo, GU