The Quest to Candyland
September 18, 2012
The Quest to Candy Land
Jessica Loob

Slurp!
Frosties, Slurpees, ICCEES, ice cream
Slurp them down, make your head scream!
Good any day, hard to resist
Tastes you never knew could exist!
Chocolate pie, marshmallow puff
Waistlines full of fluff
Expanding belts, muffin tops
Candy canes, lollipops
Feet and feet of licorice rope
Caramel bits the size of soap
Gumdrop buttons, trails of cherries
Amount of sweets that make you merry
Gummy bears, sugarplum fairy
Doctors say eat more dairy
What to expect is nothing but plain
Good diets going down the drain
What was so had not been planned
I had found myself in a Candy land!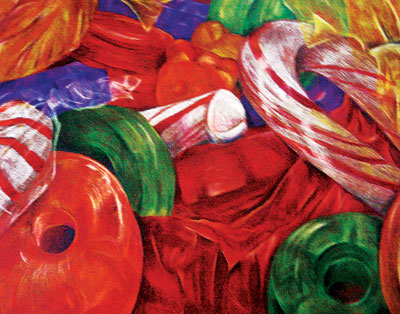 © Amy Z., Edmond, OK