Fireworks
September 14, 2012
Anticipation grows beneath a freshly-darkened sky;
A hush spreads o'er the crowd, the murmur fading to a sigh.
Near-silence only amplifies the hidden, mounting tension,
Then high-pitched keening commandeers the watchers' rapt attention.
Straining eyes can just make out a streak against the night;
A thund'ring crack erupts, the very heavens set alight.
The sky explodes with color, and the darkness floods with fire;
A bright display that cannot stay; a fading funeral pyre.
The fleeting joy is soon replaced; another shriek and light--
More crackles come, more hues begun, once more the landscape's bright.
Another and another burst, erupting 'mongst the clouds,
Faster, faster, still they come, stunning and awing the crowds.
Larger, louder, brighter; more impressive, each display;
Like a game--a competition--that the gods and angels play.
Then a roar like none another, an explosion sears the eye;
And there's no more sound and color, no more fireworks in the sky.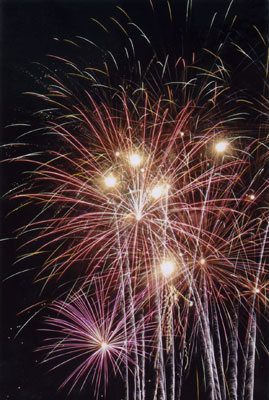 © Michael D., Hawthorne, NY