...and then there was darkness
September 2, 2012
…And then, there was darkness

We all knew it was coming,
And space just sort of collapsed

On itself, until nothing became
Anything and everything. A dominion of
Darkness, all encompassing, ubiquitous

Black, a stain in purgatory, a weightless vacuum
Shrouded by overlapping voids paneled
With black moons, or maybe
Just stars that couldn't resist the urge to die.

And then, it was just so

Heavy and tiny,
And it fell, a hollow black
Marble slowly, bluntly falling.
An abyss thrown melodramatically
Into The Abyss, the

Greater darkness, the inevitable black, charred and cold.

And they made us watch

And I couldn't get over the silence

An unrelenting quiet, serene and hysterical,
Murmuring sweet nothings,
Lies and regrets, twisted faces

Gasping for sound, warped and in vain.
And you would sell your soul again
If they wouldn't make you listen.

But, it didn't last long, I hope

Bearing the burden
Of time, numbered and waning
We must've devoured eons, incorrigible,
Monotonous. The entirety of Black condemned
To a single hole, starved of matter and damned
And it's not true, what they say about The Abyss

You can't see the end because

You never saw the beginning
And then, bang.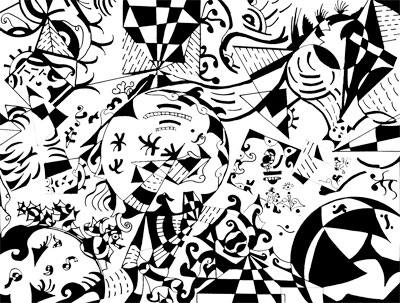 © Jennifer K., Richmond, CA