I was told to write
August 28, 2012
I was told to write
But i didn't know what to say.
All i dd was sit there,
all darn day
My thoughts were all jumbled,
they made no since at all.
My teacher told us to write.
I said " i will be here until nightfall.
She told me to open my heart
to explore, search, and find,
that one thing that would make me write.
By now i had that one thing in mind.
So i sat there and wrote all hour.
I never missed a beat.
By the time my story was done
I knew that we would meet.
Soon but not soon enough
did my dreams finally come true.
And i can't wait for that day.
When i get to be with you.
Forever is a long time they say.
But don't they know.
You can spend for ever with a person,
and there will be things about them that you don't know.
How i wish for that day to come. Hoping i will be with you.
I will stand by you forever,
knowing my dreams have come true.
So, i sat there and i looked at my paper,
looked at my teacher and said with all my might.
I should have never listened to myself,
when I said I couldn't write.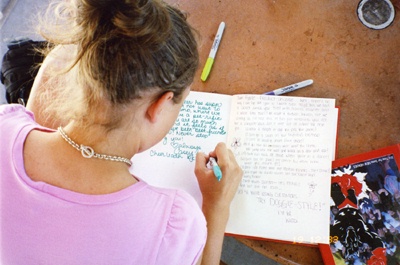 © Jessica S., Pheonix, AZ