Inhale A True Friend
August 11, 2012
When do I inhale a friend that's worthy?
I can go kick, but still stands sturdy.
Who can always throw a brick on my back and I'll never regret on building that.
When you cry, i hold on tight-
Then lean on you the times i sigh.
If your eyes say "Hi and Why".
I visualize don't say goodbye.

See, the key that locks a friendship is the door that fits all questions. If its true and right for you the door will lock and shut for two.
No one can break that we love, if your two then their fly see doves.
All together in sweet coat candy,
Always be there which makes you handy.

In this world with all but swirls, zigzags don't curl yet makes life twirl.
In that group friends roundabout leaves her at awe with all ten doubts.
Wow! Of so many people we would all think that friends don't free throw.
Fact, indeed is they throw 3's around the hoop, some leave some free-
With a true shot you don't play games-a friends friend those shots are lame.
I'm so far from all the cheaters you see them and me by meters.
It's not fun to make a shot, " I bet on her my dude she's hot."
You can plot, but I'll say, "Not" unlike them i line those dots.

I don't judge by things i see, because like food, sometimes disease.
I look for you just bring the truth, relax and cruise do what you do!
Don't hide your scars behind the door. The hurt you have, your teardrops sore.
Or how you feel on things they do-
Then paint your wall to make brand new.
Don't say "You like".
If you really just dislike.

In Conclusion, to all those assuming-I hold my breath from all this sewage. Rot in dust filled with puss-
With a true friend there is an, "Us."

Love is must-
When your a true friend, no matter what you've always been.
Love is trust, when you inhale.
So i breathe, and now exhale.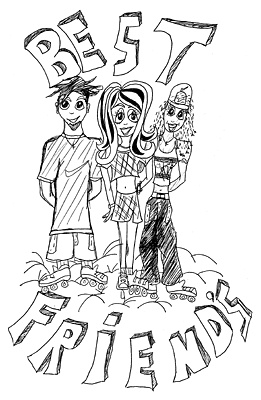 © Jessica H., Newcomerstown, OH