ode to the moon
August 7, 2012
Ohh, muse of beauty and night
I call upon you to help me
Explain the beauty of the nightly sky
Great audience
I beckon you to listen
As I tell you of the moon
Before I came to recognize the beauty of the moon
The world was dark and black
Literally a world lacking light
But now the world is ablaze with light.

The moon first became aware to me on a full moon night
On which it saved me from the horror of my nightmares
With its beauty
Her shinning silver glory
Resting in the black night sky
Amongst other glowing orbs
Yet she is the most brilliant
Most beautiful of them all
Her silver glow alights the world
Bringing such beauty.

If you all could know the beauty
Of this magnificent silver body
That hangs high in the sky
Then you would understand
Why I feel the way I do
About this celestial being
About her captivating power
And her awe inspiring splendor
Then you would feel like-wise
About the lovely orb
Known as our moon.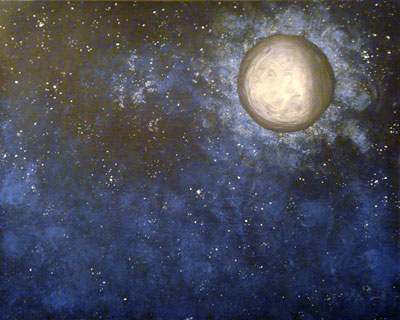 © Allison H., Vancouver, WA