Palace
August 7, 2012
When I'm silent, I'm lying, so now your eyes flood with doubt.
You tell me to cry but tears don't come out.
And it's not because I'm cold, it's just how I've adapted
To my heart and my cortex being extracted.
I can name all the places where the pieces were thrown:
DC, Texas, Boston, at home, North Carolina, rotting alone.
And now roses are blooming from the decaying matter,
But there's evil inside, the petals all shatter.
Planted by devils, the shards only sprout malice.
The stems only grow thorns, they guard this dark palace.
On her throne deep inside sits the queen of my sighs,
A regular beauty with blond hair and blue eyes.
She looks like an angel with the glow of her skin,
But she's a showgirl for Hatred, she indulges in sin.
Her voice is demanding, but her silence can kill.
She taught me that life comes human will.
In the quiet she gave me, I fought to survive.
And I fought most to defeat her; Her silence kept me alive.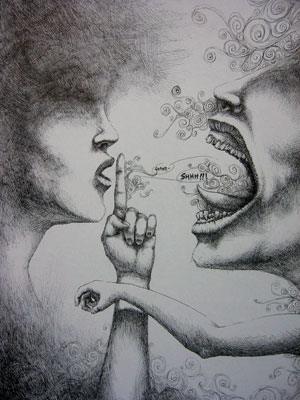 © Andrew M., Apple Valley, MN