Emulating Zora Neal Hurston: Dat Bright Young Thing
July 27, 2012
Some dreams dem come wit de ships, others dem come wit the tide. Bright young thing, she traveled along, searchin' for dem dreams in de trees and horizon. Happiness seemed ta her Nanny a marryi' young. But dat bright young thing she had dreams of her own, ain't no one seemed ta care nothin at all.
Dat mule farmer dat married her first, only treated her lak glass. But dat bright young thing she had backbone, ain't lak she got no sass.
Dose dreams she searched for she think had died, tryin' ta be dat woman everyone wanted from her. Dat becomin' a woman meant the killin' of dreams.
But den a man wit a mouth de width of his face came a suanterin' on and showed her a different horizon. Dat bright young thing she forgot about dat stump, and went a wit dat man far yonder.
De marriage was quick, but de lick came quicker and not too soon aftah. Dat man he beat her up ta carry his pride upon his head and shoulders. He used stereotypes and nothin nice ta keep her mouth sealed extra tight. Dat bright young thing wasn't young anymore, dat voice of hers was lost by dat loud mouthed boar.

Dose dreams she had seemed ta be nothin' more, she couldn't leave wit dat control no more. But da year went by and his mouth grew, his gut did too. He den became sick and left her wit dough. Dat bright young thing she had ta carry on. Her dreams seemed forgotten forevah mo'.
A bright young thing he came a travelin' on, sweepin' dat girl off her feet. He made her feel lak she was young, and gave her a new sense of freedom. Dat tree now sprouted when he asked her ta marry him tomorra. Dey worked togetha ah mighty well, she wore blue for every day. But lak de second one he beat her up ta keep dat pride his own. Though her life was good and she loved him so, de world wished more for her. Den one day der came a storm, dat rolled and growled, it ate de men fo' dinner, and ain't leave no bright young things alone.
Dat bright young man got bit in de face, makin' him crazy lak a dawg. He ain't drink watah, his eyes ain't bright no more. De love in her heart was mighty strong and she shot him right outta his pain.
Aftah movin on she came ta realize dat, and dat dream she yearned for was dat her own voice be heard. She climbed dat tree dat had been growin' looked out ontah dat horizon. She stopped dat searchin' when she became a woman independently free ta follah her desires.
Dat bright young thing wit a voice all her own, traveled down her own made road. Met her dreams at da tide brought by da moon.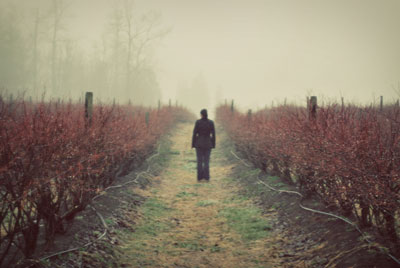 © Molly H., Lynden, WA