Call It a Voice If You Must
July 27, 2012
Nobody should be denied the right to scream...

I have made mistakes,
But I don't
wish I was
perfect.
No, that'd be
too unlike me...
You see:
I have this
problem;
with loving
my flaws
and I guess
it makes me
a freak,
because what
I seek
are strangers
to tell me
how sick I am,
To tell me
that my lungs
don't seem
to work
just right,
Well, if only I was just RIGHT.

[Maybe then
I wouldn't
say what's on
my mind,
no, maybe I'd
lay low
more often
and shut up
for once,
I'm starting to think
I'm annoying
some people,
Too bad.
I have an opinion
and am willing
to say it,
shout it,
make sure they
get it
through
their thick skulls.]
It seems
to me
that maybe
I've been duped,
and I'll gladly
ask the
tough questions.
Someone's got to be
heartless,
only then can
anyone get
anywhere.
Yeah, I've
made mistakes
More than it
takes to be
a criminal,
But I've
got this problem.
This thing in my head
and I call it
MYSELF,
but you may
call it a
Voice.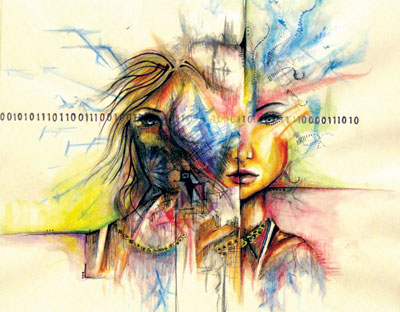 © Melissa W., Fayetteville, GA