Take Flight
July 26, 2012
Sometimes I wonder if you truly love me, or if I'm just a friendly face you've grown so used to seeing.
Do you love me becuase your heart doesn't allow otherwise, or am I just convenient. Patiently awaiting your return, day in and day out. Eagerly seeking to please, begging a smile and some kind words. I sound more like a dog. Man's best friend. But I want to be more than just your best friend. When I'm alone, I start to think; this is very dangerous for me. When I think
I worry, and second-guess, and then worry
again. Some moments I feel, without a doubt, that you love me as you say you do. Yet there are a few moments when I question, always in my mind. Doubt creeps in, a thick fog that shrouds any hope I held. Yet I never open my mouth and spill the most important question. So I word-vomit the rest of my mind, letting you into every recess, every crevice, except the One, hiding in the corner. My thoughts free-flow, like birds from my lips, they take wing. Yet I feel you hide in your mind. Your thoughts, a tangled ball of string, they never brush your tongue. So I'm afraid to ask the burning thought, I keep the words mum, for I fear the truth is just as I suspect, and that angry ball of string will flow from you lips to wrap around my heart, and choke my breath. I fear I'll fall to my knees and beg and plead, and compromise:
maybe our fragile connection is enough.
And I'll pluck the feathers from every word I ever said, if you'd just pretend I never asked.
So, no, I will not ponder. I'll never breathe a question. I'll just sit and listen to birds' wings, angry in my head.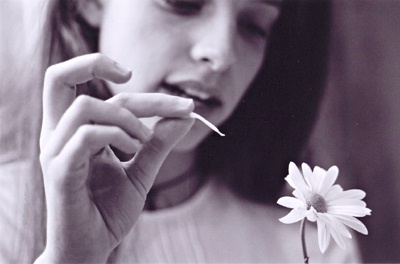 © Emily B., Houston, TX