Addicted
July 22, 2012
You're my addiction,
Oh, it's a confliction.

The pain that I feel,
My God, it's so real.

You make me feel better,
But damn you're so bitter.

When I'm sick of the abuse,
I put you to use.

I go the extra mile,
Always faking a smile.

You drag me through the days,
With your torturous ways.

I put up a wall,
To hide you from them all.

When you make my skin itch,
My mind starts to twitch.

I hurt from their words,
It's seen but not heard.

They say it's just a phase,
My minds in a daze.

I do not hear them when they speak,
For my focus is so weak.

If they could read my mind,
You're all they would find.

"Just stop," they all say,
But there is no way.

You've dug my death pit,
And pushed me right into it.

My heads going to pop,
If these thoughts do not stop.

"You're better off dead."
I must clear my head!

Your words are oh, so loud,
My eyes begin to cloud.

Another hard night,
I know it's not right.

I pick up the knife,
And fear for my life.

As the blade kisses my skin,
The emotions come out from within.

I continue to weep,
You can't go too deep.

I'm the lowest I can get,
You're not close to done with me yet.

You continue to stay,
Slicing away.

Even though it's over,
You always hover.

I always hate to find,
You in the back of my mind.

Day by day, week by week,
My life was so awfully bleak.

Thick and faded scars cover my arms,
What kind of stuff could do suck harm?

Then something came like a light from above,
I got something I had never known; love.

I finally had a friend,
I was who they'd defend.

My family reached out,
When my mind began to shout.

The never-ending darkness began to lighten,
I am no longer as easy to frighten.

Yes, you continue to haunt me in my sleep,
You come back when my thought are deep.

We have more encounters to face,
But I get better at a steady pace.

You've put me through Hell,
So now, at last, I say "farewell".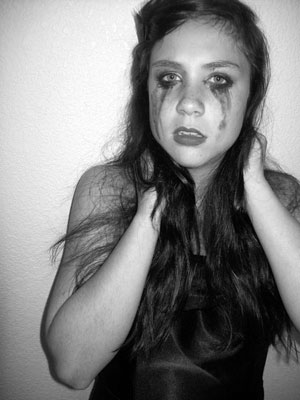 © Tiana D., Monument, CO